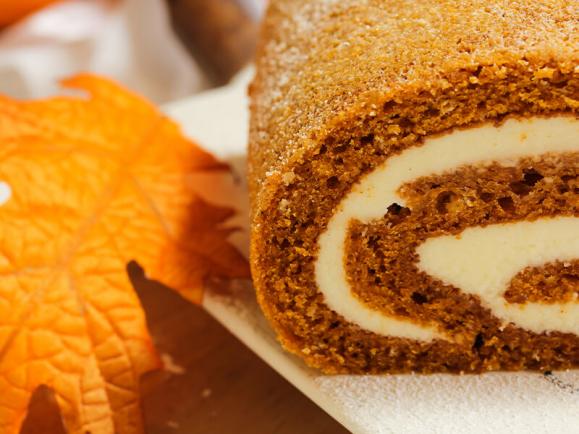 For me, you either love all-things pumpkin or you are just flat-out wrong! Who's with me?! I am guessing you are with me since you are here. Perfect, we are going to get along just fine.
Once fall hits, I love to browse through pumpkin recipes. I look at all types and save them for a rainy day, or better yet a nice fall day. I have spent A LOT of time doing this, and I am slightly embarrassed to admit how much time I've spent. Luckily for you I've compiled some of my favorites! If you are as obsessed with all things pumpkin as I am, then you're going to love these recipes! Here you'll find 25 pumpkin recipes, everything from main dishes to desserts, and quick breads to side dishes -- all involving your favorite ingredient, pumpkin.
Pumpkin Breakfast Recipes
Proper Pumpkin Pancakes from Food Folks and Fun
Delicious and fluffy Pumpkin Pancakes that are so easy to make. They're perfect for Fall breakfast or brunch, and they're always a crowd pleaser!
Pumpkin Overnight Oats from Mom Foodie
This Pumpkin Overnight Oats recipe makes a healthy and hearty breakfast. The oats take just 5 minutes of prep the night before, which is perfect for busy schedules!
Pumpkin Maple Crockpot French Toast from Food, Fun & Faraway Places
Pumpkin maple crockpot French toast is the perfect breakfast for busy school mornings. It's also a lifesaver when you have company visiting and want to spend time with them and not in the kitchen!
Healthy Pumpkin Pie Smoothie from Honey and Lime
This healthy pumpkin pie smoothie recipe is perfect for the fall season, plus it packs a punch of protein that's needed to build muscle each day. If you love pumpkin flavored everything, then try this easy pumpkin smoothie recipe!
Pumpkin Spice Baked Donuts from Girl with the Iron Cast
Fall is the season of everything pumpkin! These pumpkin spice baked donuts are everything you dreamed of and more. These donuts are baked and not fried!
Pumpkin Cinnamon Rolls from Spend with Pennies
These Pumpkin Cinnamon Rolls are a light, fluffy sweet roll filled with a pumpkin filling, and glazed with a pumpkin pie cream cheese icing. They're a crave-worthy fall treat, that you can eat any time of year!
Pumpkin Dinner Recipes
Smoky Pumpkin Soup from Art from my Table
How about some Smoky Pumpkin Soup at your table this fall? This soup is oh so creamy, full of comfort and it has just a touch of smokiness.
Creamy Pumpkin Pasta with Sausage and Sage from Food Folks and Fun
This Pumpkin Pasta with Sausage and Sage is the perfect comfort food dish for fall! It's creamy, spicy, and so flavorful. Plus it's on your table in just 25 minutes!
Pumpkin Chicken Curry from Irena Macri
This is the easiest chicken pumpkin curry you will ever make. With just a handful of ingredients, this healthy curry packs a lot of flavours that you and your family will enjoy. This recipe is great with kabocha squash or other sweet types of pumpkin. BONUS: This recipe is paleo, gluten-free, dairy-free and Whole30 friendly!
Turkey Pumpkin Chili from Hilda's Kitchen Blog
Fall is just around the corner and it's a great time to prepare this amazing Turkey Pumpkin Chili. The turkey helps to keep the fat down, while the pumpkin and spices add a deep rich flavor to usher in Fall.
Black Bean Pumpkin Tamale Pie from Boulder Locavore
Black Bean Pumpkin Tamale Pie is a hearty comfort food recipe just right for all. A saucy layer of ground beef, onion, black beans, corn, pumpkin, green chilies and earthy spices is topped with a cornbread layer and cheese for a mouthwatering dinner recipe or for gatherings. Served with salsa, sour cream, guacamole, fresh tomatoes, and/or fresh cilantro. Gluten-free with gluten option included.
Pumpkin Side Dish Recipes
Roast Pumpkin Pear Salad from Natalie's Health
This delicious Roast Pumpkin Pear Salad is made with all FRESH and seasonal ingredients – baby spinach, sweet roasted pumpkin, juicy pomegranate and pear topped with crunchy walnuts.
Mexican Black Rice and Pumpkin Salad from Sprinkles and Sprouts
This Mexican Black Rice and Pumpkin Salad is packed with so much flavor, it's like a flavor explosion in your mouth. Honey and cumin roasted pumpkin, nutty sweet black rice, creamy avocado, spicy chilli, zingy lime and fabulous fresh coriander.
Spicy Roasted Pumpkin Wedges from Where is my Spoon
These Roasted Pumpkin Wedges are an easy and spicy side dish that pairs well with meat, poultry or fish.
Pumpkin Dessert Recipes
Pumpkin Whoopie Pies from Food Folks and Fun
The classic New England dessert gets an update with pumpkin, spices, and maple! You will be craving these Pumpkin Whoopie Pies with Maple Cream Cheese Frosting all fall long!
Mini Pumpkin Cheesecakes with Cranberries from Away from the Box
These mini pumpkin cheesecakes are moist and fluffy, full of pumpkin pie flavor then topped with a cranberry and pecan compote and white chocolate. They're the ultimate fall dessert!
Pumpkin Bars with Cream Cheese Frosting from Love from the Oven
Pumpkin Bars With Cream Cheese Frosting are easy to make and they would be a hit at parties and get-togethers.
Pumpkin Roll Cake from Princess Pinky Girl
If you're looking for a classic Thanksgiving dessert, then you have got to try this delicious pumpkin roll and rich cream cheese frosting.
Pumpkin Pie Fudge from Sugar Salt Magic
Pumpkin Pie Fudge. The cosy flavours of Autumn in a silky, smooth fudge with a crunchy no-bake biscuit base.
Pumpkin Cake with No-Bake Cheesecake Layer from Loving Living Lancaster
Now that cooler weather has hit, it's time for all things pumpkin! This Pumpkin Cake with No-Bake Cheesecake Layer will satisfy any pumpkin craving!
Best Pumpkin Cupcakes from Cupcake Project
These Pumpkin Cupcakes are simple and ideal for any fall party or holiday. They're ideal for Halloween, Thanksgiving, or anytime!
Pumpkin Bread Recipes
Pumpkin Cream Cheese Muffins from Boulder Locavore
Pumpkin Cream Cheese Muffins are a celebration of fall flavors in a light, fluffy muffin. The surprise sweet cream cheese filling is always a hit!
Pumpkin Pie Spiced Pumpkin Bread from Food Folks and Fun
This is the BEST Pumpkin Bread recipe ever! The recipe calls for 1 can of pumpkin and makes 2 loaves. It's flawlessly spiced and easy to make, too!
Pumpkin Yeast Bread from Lavender and Macarons
Soft and airy Pumpkin Yeast Bread that's made from scratch. This easy artisan recipe makes 1 large loaf and it's great for dinner, sandwiches and toast.
Pumpkin Pie Biscuits from Syrup & Biscuits
These Pumpkin Pie Biscuits are all the flavors of pumpkin pie rolled into an easy to make biscuit recipe.
Can you believe all of the pumpkin goodness here? Amazing, right!? Which recipe will you make first? Comment below to let me know. I'd love to know which recipe stood out to you most. For me, I think I'll start with the Pumpkin Pasta for dinner and then serve the Pumpkin Roll Cake for dessert! In my opinion, you can never have enough pumpkin in your menu plan!