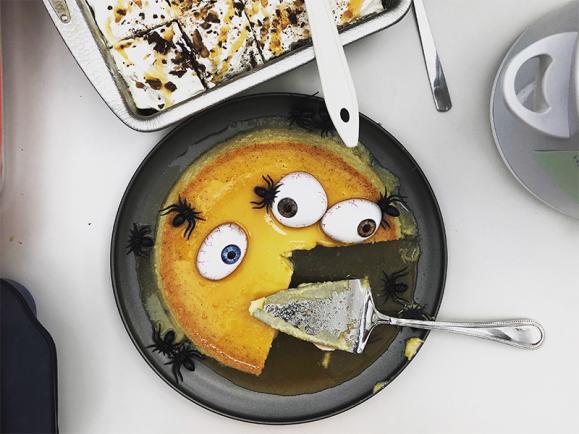 And just like that, Halloween is right around the corner! It seems like it takes no time for October to come around, and if you're finding yourself scrolling endlessly online for ghouly, gross, and awesome Halloween treats ideas, your scrolling stops here. This year, you won't have to worry about envying your neighbor's mummy eyeball meatball recipe; you'll have your own table of creative, gross, and tasty Halloween treats.
If you're ready to spice up-or rather spook up your Halloween party food, check out some of these awesomely gross Halloween treat ideas.
Vampire Apple Teeth
This is an effortless recipe that gives a healthy twist to Halloween treats. You'll need three red apples, creamy peanut butter, silver almonds, and cranberries. Start by slicing your apples into triangular wedges. Then you'll want to cut smaller triangular wedges out of those and spread the inside of the apple with your creamy peanut butter. Take two cranberries and stick them on the outer edge of the mouth to create the vampire fang. Once you've done that. Stick four of the slivered almonds in between the fangs for teeth, and you have created bloody vampire teeth. If you don't plan on serving the apples within a couple hours of making them, cover them in a plastic wrap and keep cold in the fridge, so the apples don't discolor.
Spooky Worm Halloween Jello
Nothing says awesomely gross on Halloween than jello made out of worms, spiders, and spider eggs. Luckily for us, we can substitute those with candy imposters to make a super cool Halloween dish. For this simple recipe, you'll need two small boxes of green and purple jello mix, seven ounces of large pearl tapioca, a pack of gummy worms (feel free to use sour ones if you prefer), and some plastic or candy spiders.
You'll want to first soak the tapioca in water overnight according to the instructions on the packaging and then drain them. We'll use these as our spider eggs. Next, you're going to follow the instructions on the jello mix and prepare the jellos in two separate containers. Then, take two to three of your candy worms or spiders and place them at the bottom of 10-12 smalls cups. If you're entertaining a larger group of people, you may need to prepare more cups. Once that's done, pour the jello over your tapioca, then split your cups up, and pour green jello on one half and purple jello on the other. You'll need to let them chill in the refrigerator for at least one to two hours until the jello has set.
To finish off this gross dessert, run a sharp knife around the rim of each jello cup to un-mold. Set the bottoms of the jello cup in a hot tray of water for about 30 seconds and then flip them onto a plate and serve.
Bloody Shirley Temples
Quench your party guests thirst with this gross yet oddly refreshing Halloween rendition of a Shirley Temple. This recipe is also kid-friendly, so no one is left out of the blood-sucking; see what I did there? Never mind, you'll get it by the end of this recipe.
This recipe calls for sprite, ice, grenadine, and plastic syringes. Start by pouring the sprite over ice in a glass until it stops fizzing. Then take your syringe and squirt grenadine into the glass to create a bloody looking and a sweet-tasting drink. Feel free to leave the syringe in the glass as a cool decoration.
Creepy Halloween Eyeballs
Okay, I know the whole eyeball recipe for Halloween is so overdone, but I mean, really, is it something you can resist having? I promise you'll blow your guest away this year with how grossly real this recipe will look. You'll need about one-fourth cup of strawberry jam, one can of lychees, drained, a container of fresh blueberries, and toothpicks.
Spoon a little bit of the strawberry jam into the hole of each lychee to create a bloody eyeball. Then place a blueberry in the hole and secure it with a toothpick. You'll instantly create a gross bloody eyeball that looks like it's being punctured by the toothpick, gross! I meant, yummy!
Dirty Earwax Q-Tip Treats
If you're not gagging at the sight of this treat, then you aren't doing Halloween right, but I promise they taste a lot better than they look. For this recipe, you'll need a box of Q-tips, which is a pretty inexpensive item that can easily be found at your local dollar store. Make sure to save the box the Q-tips come in; it'll come in handy as a prop in making the dish look very real. You'll also need a serving tray, a bag of jet puffed mini marshmallows, and Kraft Caramels.
Using a strong pair of scissors, snip off the ends of the Q-tips to remove the cotton swabs, which you'll then replace with the mini marshmallows. Next, melt the caramels by sticking them in a microwavable dish and slowly melt them in the microwave. A good rule of thumb is to melt the caramels in 1o second increments. Then, once your earwax, I mean caramel, is nice and gushy, start dipping your marshmallow Q-tips and remember the grosser they look, the better, so feel free to go crazy with the caramel. Then using the original Q-tip container, set the Q-tips inside of the container and then put the container on a cool Halloween tray to serve.
The awesome thing about these Halloween treats is they are very minimalistic in ingredients and offer a lot of room for your own added creativity. Add these recipes to your Halloween party menu, and you're sure to have your family and friends grossed out. (in the best way possible)