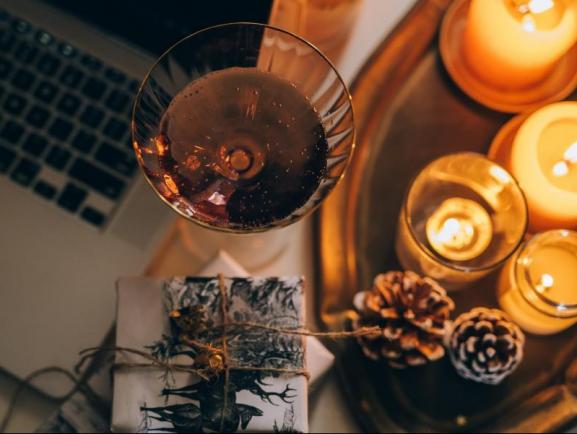 Being apart from the ones you love most during the holidays can be tough for anyone. While you may be down about all the things you think you're missing out on , there are still a ton of ways you can celebrate the holidays with them.
If you're unable to be with your loved ones this year physically, check out 7 ways you can spend the holidays together even when you're apart.
Have a holiday movie night.
Who says you have to be with someone to enjoy a holiday-themed movie night? Plan a night to get cozy in your holiday-themed pajamas, grab your favorite snacks, and schedule a video call with your loved ones. Apps like Zoom make it easier to add multiple people to a video call. Decide on a movie everyone can stream and watch together. It's a great way to foster togetherness even while apart, and you'll forget all about not being able to be there with them .
Plan a holiday gift exchange.
Another great thing about the holidays is being able to give and receive meaningful gifts from the people closest to you, and you can still do that even when you're apart. Notify everyone you want to participate in the gift exchange, and to make things fun, do a drawing of names to decide who everyone will send their gifts to. Then, plan a day where everyone can jump on a video call to open the gifts they receive. Of course, factor in how much time may be needed for everyone to mail their gifts off, but shopping with websites like Amazon make it easier for customers by offering fast shipping options.
Take a holiday photo in matching pajamas.
Create lasting memories by finding matching holiday outfits or pajamas you and your loved ones can purchase and snap photos in. Even though you won't be taking a group photo nestled up in the same living room, you can still keep up with your holiday dress code.
Host a holiday dessert decorating competition.
Whether it is cookies, gingerbread houses, cakes, or other yummy holiday desserts, challenge your loved ones to a night of a little friendly competition and lots of holiday cheer. Decide which dessert everyone will bake/decorate, then hop on a video call and set a couple of ground rules like setting a time limit (to keep the playing ground fair). Once everyone is done, show off your creations on social media, and whoever's dessert gets the most likes wins!
Sing your hearts out in a virtual holiday karaoke night.
The holidays aren't complete without some of your favorite holiday tunes, and this year will be no different. A virtual holiday karaoke night is a great alternative to holiday caroling and a new tradition everyone can enjoy. Create a playlist of some of your holiday favorites and share it with everyone wanting to participate. Apple Music offers an easy way to create and share playlists with other Apple Music users. Then, prepare to sing your heart out in a night full of music, laughs, and the people who matter most.
Make a holiday bucket list together.
Collaborate and come up with a list of things you can still do even while being apart. Whether it's making homemade Christmas cards to send out, volunteering at your local shelter's holiday dinner, going to look at lights, or reading a holiday story, once you've created a list, check-in with each other as you complete items on the bucket list. This is a great way to stay connected to others during the holiday season.
Decorate and hang them a stocking.
What better way to keep your loved ones with you during the holidays than to decorate and hang them a stocking. Add their name to the stocking and attach a picture of them on it so you'll feel like they are right there with you. If you want to take it a step further, stuff something in the stocking that makes you think of them. It's a thoughtful way to show your appreciation for someone, and hopefully, next year, they'll be right there with you to hang it up stockings.
The holidays may look a lot different for you this year, but they don't have to feel any different. Although you may not be able to spend the holidays with loved ones physically, technology makes it so much easier to still feel connected with them throughout the holidays. If you find yourself missing the people closest to you a little extra this year, try finding ways you can still celebrate with them and remember, this isn't a permanent holiday tradition. Plus, it gives you a head start on planning all of the things you'll be able to do together and in-person next year. Happy Holidays!