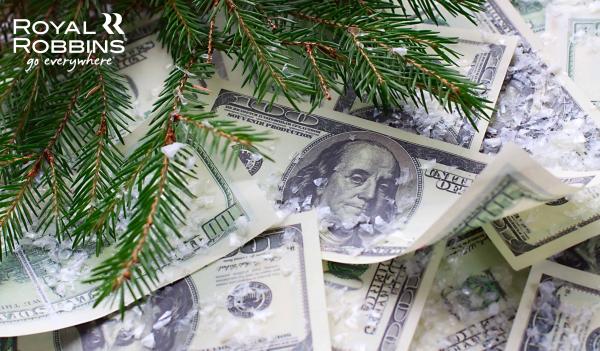 The holiday season is the most wonderful time of the year. For many people, it can also be the most expensive time of the year. In order to alleviate some of the financial stress that happens when Santa Claus comes to town, here are a few ways to save money during the holidays.
1. Create a budget
With gifts, parties, more gifts and parties, travel expenses, charitable donations, and more, it is easy to spend a lot of money you hadn't anticipated spending.
One of the best things you can do is set a spending limit. Give yourself some buffer room so you don't accidentally go over because of the things you forgot.
Be reasonable about your budget. Set one that actually helps you save more than you spent last year, but don't set it so tight that you end up throwing it out anyway.
2. Track your spending
If you don't track your spending, your budget won't do you any good. Be sure to stay on top of your tracking. Waiting a few days or a week can dull your memory, making it difficult to remember what you purchased and where.
3. Avoid impulse buying
Those $1 trinkets at the checkout are cute, but if you're not careful, impulse spending will add up quick and before you know it, your budget is gone. Decide now to avoid impulse spending. A made-in-advance gift list will help you avoid overspending, and the buffer room in your budget will help you, just in case you forgot someone on your gift list.
4. Set aside money to avoid spending credit
It's easy to spend money you don't have when you put everything on your credit card. Limit your use of credit by setting money aside throughout the year. Didn't save the money already? Don't worry. Use your expense tracker to make sure you are using your credit card while staying within your budget.
5. Turn down the heat
Cold weather and Christmas spirit make it easy to spend extra on electricity and gas. According to Bill Prindle, former Deputy Director at the American Council for an Energy-Efficient Economy, "you can save about 3% on your heating bill for every degree that you set back your thermostat." Set your thermostat at the lowest comfortable level. Adding a few extra sweaters, blankets, jackets, and slippers can help you stay warm.
6. Use a timer and energy-efficient lights
Between your Christmas tree lights and outside decorations, things can get pricey. Consider using LED lights, which use considerably less energy than traditional lights. Also limit the amount of time your Christmas lights are on. Try purchasing lights with a built-in timer, or set a reminder on your phone to turn them off at a given time.
7. Spend a little extra on things that last
When you're shopping for gifts, price is an important factor in your decision, but it shouldn't be the only one. The adage, "You get what you pay for," applies to just about everything, including those cheap toys that break just a few days after Christmas or clothing that fades or tatters easily. Take a little extra time to do research on the gifts you are buying by reading online reviews or asking around. It may seem counterintuitive to spend more money as a money-saving technique, but buying quality products will actually save you more in the long term.
8. Take advantage of online deals
Want to avoid the holiday crowds? No sweat. You can find some of the best deals online without leaving the house. Take advantage of special offers and free shipping deals. Not only does shopping online save you time spent standing in lines, it can also save you from much of the impulse buying that occurs with intentionally placed products at the store.
9. Reward yourself
Did you stick to your budget and you still have a little money left? Use that money to treat yourself to a little reward. Since it's money you had already budgeted for Christmas, just think of it as a Christmas present for yourself. You worked hard to save that money, and, hey, you earned it, right?
Royal Robbins offers a great selection of versatile clothing to fit everyone on your gift list. Our Black Friday and Cyber Monday deals will save you money now, our durable clothing will save money in the long run. Treat yourself today. Come on, you deserve it!