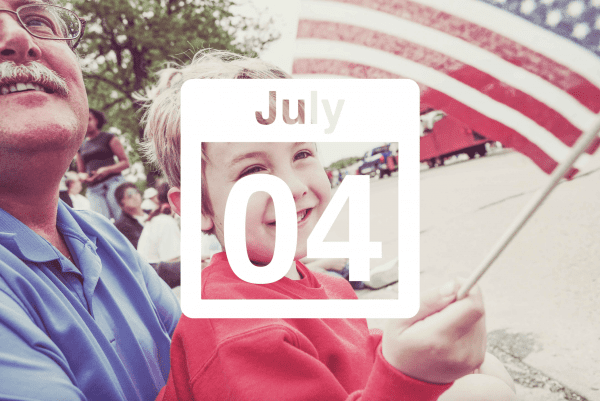 The Fourth of July is here! A day full of sparklers, parades and picnics. But with all the fanfare, the true purpose of the holiday can be eclipsed. Here are some ways to help your family remember the true meaning of Independence Day.
1. Take Goodies to Veterans
Some veterans have a hard time celebrating Independence Day because fireworks can trigger symptoms of PTSD, but this day should be used to show gratitude for the people who've worked to preserve the virtues our country was founded on. Take veterans a treat on the Fourth of July and tell them you're thankful for their service.
Here's an idea for an easy, healthy treat that's super spirited.
2. Challenge Your Family to U.S. Trivia
Do you have what it takes to be a U.S. citizen? See if you and your family can pass the U.S. citizenship test here.
3. Discuss Your Favorite Founding Father Quote
If you don't have a favorite quote, try ours on for size and ask these questions:
What do you think Paine is saying here?
What are the "blessings of freedom" in your life?
How can you support freedom?
4. Listen to Lin-Manuel Miranda's "Hamilton"
You're lucky if you have the opportunity to see this hit musical. But even if you can't see it performed, the story is easy to follow through just the music. Listening to "Hamilton," you and your kids will learn more about the lives of the founding fathers and how they built our country.
If your family are already "Hamilton" fans, try acting it out!
Note: "Hamilton" contains profanity and mature themes.
5. Have a Gratitude Fest
Give each member of the family a chance to express their feelings about the United States. This could be in a formal setting or could take place around a round of hamburgers.
Here are some questions to get everyone started:
Why do we celebrate Independence Day?
What does Independence Day mean to you?
What do you think your life would be like without the United States?
What are you grateful about our country?
6. Watch a Patriotic Video
As a family, watch this video of Jenny Oaks Baker and former Secretary of State, Condoleezza Rice performing "Amazing Grace." Pay attention to the clips of U.S. soldiers.
Famifi This: No matter how you choose to celebrate, you'll create a memorable experience for your family.