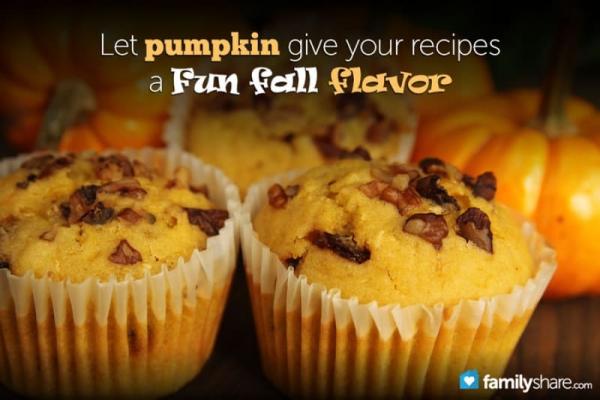 Fall has officially arrived, and with it comes the end of summer produce. It's time to embrace apples, pears and winter squashes in cooking. My favorite squash to cook with is pumpkin. It goes well in sweet and savory dishes, is packed with fiber, antioxidants and Vitamin A and is easy to find and use. There are countless ideas and recipes for cooking with pumpkin. Here are a few to get you started.
Smoothie
Ramp up your morning smoothie with a dose of pumpkin. This recipe makes enough for two. In your blender jar, add five cubes of ice, 1 ½ C unsweetened vanilla almond milk (or milk you prefer), 1/2 C low-fat Greek yogurt, ¾ C chilled pumpkin puree, 1 small banana, 1 tsp. pumpkin pie spice and your choice of sweetener to taste: agave nectar, honey, brown sugar or orange juice. Blend well and serve immediately.
Optional add in: 1 scoop vanilla or plain protein powder or ¼ C raw oatmeal.
Pancakes or waffles
Adding pumpkin to waffles or pancakes makes them moist and healthy, as well as delicious. You can take your favorite recipe and add in 1/2 C pumpkin puree and 1-2 tsp. pumpkin pie spice. If you add in pumpkin, you can easily reduce the amount of oil in your pancake recipe. Don't take all the oil out of your waffle recipe or your waffles might be too sticky for the waffle iron. I highly suggest using whole wheat flour, or at least 1/2 whole wheat, to add flavor depth and health to your recipe. If you need more guidance, Better Homes and Gardens offer a simple recipe. Serve with real maple syrup for the best taste of fall.
Oatmeal
I try to serve oatmeal for breakfast at least once a week. Change up your usual recipe and make delicious pumpkin oatmeal. Just add in ½ C pumpkin puree, 1-2 tsp. pumpkin pie spice, and a little extra almond milk or other milk for a four serving recipe of oatmeal. Sweeten to taste with brown sugar or honey, and add back in the raisins if you like them. Use steel cut oats (I like quick-cooking) or old-fashioned rolled oats to keep your oatmeal from becoming too mushy. This recipe would be great with toasted nuts on top.
Quick bread or muffins
. My family loves pumpkin bread or muffins served with a hearty soup on a rainy fall day. I use a recipe from foodnetwork.com. I like to make them with mini chocolate chips.
There are several recipes for pumpkin bread. Some are loaded with sugar and fat. If you'd like to make a healthier version, think about using whole wheat flour, reducing the sugar and using low-fat yogurt instead of some of the oil or butter.
Cookies and Bars. Pumpkin chocolate chip cookies are similar to the pumpkin muffins, but more portable. Pumpkin bars are best topped with cream cheese icing. Most recipes make a large pan, so they are perfect for sharing as well.
Pasta sauce
It might sound strange, but pumpkin cream pasta sauce is delicious. Add an extra veggie to your meal by whisking in ½ to ¾ C pumpkin puree and a few tablespoons of chicken broth to your cream-based pasta sauce. Add in a dash of nutmeg and salt to taste to combat the sweet flavor of the pumpkin. Our Best Bites offers a lower-fat Alfredo sauce, but I usually go all out with cream and butter.
Seeds
If you've gone to the work of prepping your own pumpkin for cooking with, don't toss out the seeds. Rinse them well and let them dry. Then, roast them in the oven at 300 degrees for about 40 minutes, stirring and checking them occasionally. I sometimes put a little sea salt on them, or you can get creative and make them spicy or sweet with a spice mix, depending on what you're in the mood for. Roasted pumpkin seeds are a healthy, crunchy treat. Save them to snack on, or top your favorite salad with a handful.
These recipes should make you excited to cook with pumpkin this fall. Your kids may squirm at the orange color of pumpkin foods to begin with, but once they taste how yummy these recipes are, you'll be cooking with pumpkin together all through the winter.