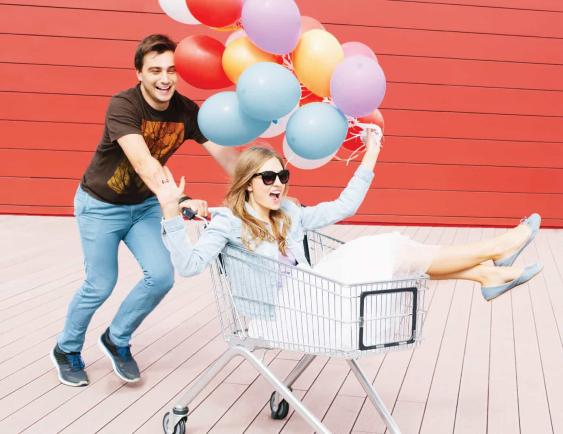 Watching a movie or going out to eat gets old after a while. You've tried thinking up something more creative to do, but then you both chicken out and order a pizza and movie instead. What you need is a list of quirky date night ideas to spice up your evening.
Test out these 15 quirky ways to spend date night and leave your spouse anxious for next week's adventure:
1. Triathlon of favorites
Combine your husband's love of hotdog eating and ping-pong playing with your passion for karaoke singing and fingernail painting for a night you'll never forget!
2.Take a trendy fitness class
The best time to try a fitness class is with somehow who is equally embarrassing. Test your luck at trampoline cardio or aqua cycling this weekend.
3. Take a dance class
Have you ever thought that you may have a secret talent for dancing? You'll never know if you don't try, so sign up for a class with your beloved and find out!
4. Pretend to be a student for an evening
Channel your inner college student and do what you would have done on a Friday night as a freshman. Head to the library for some research on a favorite movie or vacation spot, or sit in for a lecture at the local university.
5. Go to the library
Wander through the books and choose one for your significant other to read. Spend time that week reading your respective blind date book then switch!
6. Cheese. (Enough said)
Buy all different kinds of cheese and try every single one of them! Bonus points if you dress up like rich socialites, complete with false facial hair.
7. Drive-in, anyone?
Take it back old school style and head over to the drive-in. Pack the backseat with tons of blankets to stay cozy. If you don't have a local theater, charge up the laptop and have your own drive-in in your backyard.
8. Make your own ice cream
Everyone's had ice cream.... but have you made your own before? Stir in favorites like peanut butter or M&M's, or switch it up and stir in what you find in the fridge if you are feeling adventurous.
9. Bucket list
The next time you and your spouse draw a blank for date night, pull out your bucket list and cross off something. Be spontaneous and crazy! Drive to the Grand Canyon, sign up to sky diving that night or trick or treat sometime in June.
10. Head to the greenhouse
What woman doesn't love the smell of fresh roses straight out of a greenhouse?
11. Take a drive
Mini road trips are some of the best dates. Go to a place you've never been together, even if it's just to the other side of town. Make a mix tape for your mini trip and pack the car full of road trip worthy snacks.
12. Mud run
It's time to get down and dirty in one of the most epic dates of your life: a mud run!
13. Play a childhood game
What was your favorite game as a child? Remember the magic and play it with your spouse. Dress up the cat to play house with you both or borrow from the dress up pile to play cops and robbers.
14. Write a song together
Do either of you have musical talents? Put them to the test by writing a song together. This is a cute idea for the musically inclined, but turns hilarious for tone-deaf darlings.
15. Test drive the car of your dreams
With no intention of buying it, take your dream car for a test drive together and feel like a million bucks.