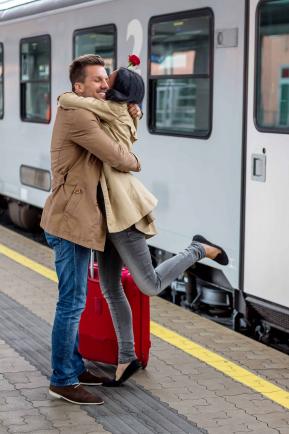 Relationships take work, but long distance relationships take even more effort and trust. Being separated from your love is difficult for any amount of time. Trust issues often develop, or the distance becomes unbearable, but there is a way to make your love last no matter how many miles are between you.
Here are some tips and tricks to keep your love alive, no matter how far apart you are:
1. Set goals and ground rules
Are you comfortable with each of you having close friendships with the opposite sex? What goals do you have in your relationship and how often will you talk to each other? And so forth. When you are clear about your expectations, there is less room for miscommunication.
2. Talk about your adventures
Being too dependent on the other person will have negative effects on your relationship and yourself. So, go on adventures while they are away and share your experiences with them later. Don't let your life center around your relationship. Go out and have fun.
3. Online calendar
Share an online calendar. This can promote trust, and also help you know the best times to schedule a video call.
4. Open up about your emotions
Communication is key for long distance relationships because when you open up about your emotions, you are creating an intimate bond. This bond makes it possible to grow as a couple, to create a stronger connection and to build trust.
5. Trust each other
Jealousy or insecurities will ruin your long distance relationship if you aren't careful. A vital key to your relationship is trust. Be open about your activities, tell your partner about your friends and believe in your love.
6. Say goodnight and good morning
It's a great gesture to start and end the day thinking about each other.
7. Never use the silent treatment
Your relationship must be built on trust and communication. This silent treatment is damaging to any relationship, but it's deadly for a long distance one. If you are upset, tell your partner you need time to think and talk about the problem.
8. Talk about serious things
Conversations about money, jobs, education and the future need to be discussed. For the relationship to be successful, you both need to be on the same page considering these subjects.
9. Invest in other friendships
Once again, don't be too dependent on your partner. Friends get you out of the house and encourage you to have fun. They provide the balance you need in your life to cultivate a healthy romantic relationship.
10. Visit each other
When you're able to see each other, go out and do something adventurous together instead of staying home. These moments are vital in getting to know your partner in a new light.
11. Video chat
It's nice to text and talk on the phone, but seeing each other through video is more intimate and meaningful. There is less likely to be miscommunication because you can see facial cues. Video chat as often as you need, but don't spend your whole relationship staring at a screen.
1. Book or movie club
Pick a book, movie or TV show and read/watch it together. This will give you something to talk about during your video chats.
2. Send flowers
Yes there are email flowers, but make the time to send real flowers to your love. Your thoughtfulness will show how much you care and think about them.
3. Multiplayer games
Online games are a great thing, so play some with your partner. It's a fun activity that you can do miles apart.
4. Truth or dare
The dares might be a little hard, but the truths will be enlightening. Of course, you could just play 20 questions or answer some of these 100 relationship questions.
5. Journal sharing
Write in a weekly journal and mail it to your partner. This will give you a chance to read, about their week in their own handwriting. Sometimes writing about feelings is easier than talking about them. Of course, you could use online journals like penzu or Journalate.
6. Story game
Write three words or a sentence of your story, and then let your partner add three more words or a sentence. It's a fun easy activity that will make you laugh together.
7. Pillow talk
Call each other to say goodnight and talk till one of you falls asleep. There is nothing more comforting than talking to the person you love as you doze off.
8. Virtual scavenger hunt
Create a scavenger hunt on the internet. Leave little notes in comments or on social media platforms for them to locate and interpret to find the next clue. Maybe the prize could be a flight itinerary, for a surprise visit from you.
9. Date in a box
Fill two boxes with everything you and your significant other will need for the date. Then open your boxes at the same time and go on the date "together."
10. Surprise each other
Every healthy relationship needs spontaneous acts of love. Send surprise gifts, or plan a surprise visit.
11. Laugh together
Whatever you do, make sure you laugh together. Try out this Kiss Phone. Just reading about it you might get you the laughs you need.
Long distance relationships are hard, but they don't have to lack the intimacy and fun of other relationships. If you love your partner, you and your relationship can survive the distance until you are reunited again.