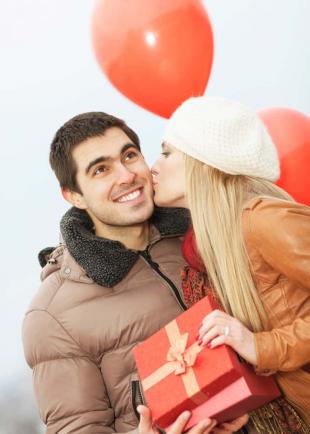 Christmas is over and Valentine's Day is right around the corner! It's time to start thinking about the perfect gift for that special someone. While I would never personally turn up my nose to a bouquet of beautiful roses or a box of chocolates, these ideas go the extra mile to show your love.
1. Love letters book
For our 2nd anniversary, my husband put together a book of all the letters, emails, and Gmail chat conversations we had and put them into a book.
They were easy to gather as our email accounts saved everything. Not all of them were love letters either, some were just silly, meaningless conversations that made me laugh out loud! This compilation totally brought back the carefree and happy feelings of being young and in love. It was a totally unexpected and an AWESOME present!
There are a lot of websites out there to help you create books, so Google your price range and get to work on creating a wonderful memory for you, your spouse, and your kids who will eventually love to read it too!
2. Dating brochure
The Christmas before we started dating exclusively, I made my boyfriend a date brochure featuring dates with me! I picked an "intellectual date" to the art museum, a "sporty date" of skiing in the mountains, and a "mystery date."
Under each date, I gave him descriptions of what each date would entail. He totally loved it! And it gave us something to look forward to in the months ahead.
3. Spot the difference book
My husband created a book for me where you had to spot the difference between two of the same pictures. This was HILARIOUS!
He would make his nose HUGE, change the color of a sign, or remove jewelry. Some of them were tricky, but that's what made it so fun! You can use old or recent photos and have fun Photoshopping, or just use any photo editing software, to add minor differences for a major good time. Just make sure to include an answer key at the back of the book. (As an added benefit, my kids now use the book in church.)
4. Apartment cruise
My husband and I went on a cruise for our honeymoon. When we got home (aka back to reality as poor, young college students) we realized that we wouldn't be able to go on a cruise again for a long time. So we decided to create "apartment cruises."
We would take turns planning the evening. We would prepare "spa night" in our bathrobes, and face masks (my husband is a good sport). We would also do "fruit carving," where we attempted to make amazing creations like they did on our cruise. And one time we even set up a "zip line excursion" through our house (this consisted of an excessive amount of yarn, willingness to jump off furniture, and a lot of creativity and imagination).
With the same bit of imagination and creativity, you too can recreate a special night/activity in your home while your kids are sleeping.
5. Chocolate tasting
I saw this online awhile back and have wanted to try because I love (LOVE) chocolate in all forms. If you do too, then this will be a winner!
Instead of just bringing home a box of chocolate for Valentine 's Day, make it a little more interesting. Buy a variety of chocolate bars- white, dark, milk, extra dark, fruity, with nuts, caramel, etc. Buy some that you know your spouse will love, and then get adventurous on the rest.
Make a basic chart labeling each chocolate bar or you can go here for more ideas on how to make it a little fancier. Look up some lingo on how this one has "a fruity aroma" or this one has a "floral" undertone. It makes you sound sophisticated.
Now get to work to create that special, thoughtful, unexpected gift to show your special person how much you care.