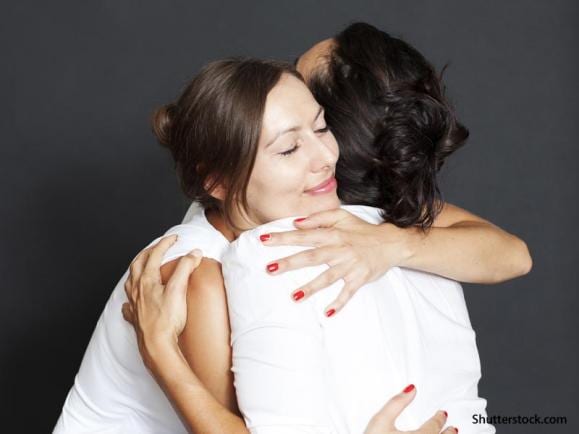 Joining your spouse's family can be difficult. It means navigating a lot of new relationships, many of which might not be easy. We all have heard the horror stories though of building a relationship with that one special person – the mother-in-law.
Whether you are building a relationship from scratch, already have a positive friendship with her, or are currently working through some difficulties – there is a way to connect with your mother-in-law on a deeper level. By treating her with kindness, showing that you have a genuine investment in the relationship, and by getting involved you can help eliminate awkwardness and conflict. Here are the steps you can take to strengthen your bond.
Find things you have in common, even if it's just your spouse.
Is there any television series, sports team, book or activity that you both love? Finding some common ground with your mother-in-law will help strengthen the relationship and is an instant conversation starter. Asking her about the last episode of "The Bachelor" is an easy way to get her talking, even if she usually isn't the biggest extrovert.
If you can't seem to find anything that you both have in common, don't be afraid to chat about your spouse. You both love them dearly so that's a good starting point for bonding. Ask them to come to your spouse's birthday or something similar. This can help take the focus off of you and put it on the person you both mutually love and care for.
Ask her for advice.
People love to feel needed, wanted and valued. One way to show you care about your mother-in-law is by asking for her advice. You don't have to let her meddle in your personal business, but giving her opportunities to share her opinion will make her feel important. It can be as simple as asking her to advice on how to make your spouse's favorite dinner dish. More than likely, she will be delighted to do so. Make sure to never talk badly about your spouse, though, as that can make for some uncomfortable situations.
Don't be anyone but yourself.
Your spouse married you because they see something amazing and special about you. Don't let your mother-in-law miss out on seeing that something special as well. You don't need to pretend that you two are best friends if you have nothing in common, or rave over her meatloaf if you hate the dish in general. Over time, she will see the genuine you and appreciate that over any fake personality you made up to try and impress her. Ever family is different so don't feel like you need to be a perfect fit into their dynamic.
Always be pleasant.
Even if you absolutely cannot stand your mother-in-law, that is no excuse to act mean or rude. Make sure that you are still friendly, courteous, and have manners. Always say please and thank you and offer to help out. For example, if you had a large family dinner step up to the plate and wash the dishes without being asked. This shows that you want to be a good in-law, even if you aren't the best of friends with them. It is always a great gesture to offer and it will show her how much you are trying to be in involved.
Take an interest in her life and hobbies.
Does she love going on morning walks, attending church, or gardening? Ask her! Even if they aren't activities you normally would participate in, taking an interest and letting her share her passions with you will help build a better connection. Chat about other parts of her life too, like her job, her history, or even her love story. Take a real interest in learning about how she became the women she is, and how that impacted how she raised your spouse.
Visit often or utilize technology.
If your mother-in-law lives down the street, you will want to try and incorporate her into your monthly schedule. Remember that she wants to gain another family member, not lose one. So make sure you put in the effort to spend time with her – even if it's only to visit for dinner or go on a grocery shopping trip together. She will feel valued for getting invited to different events.
Your mother-in-law may live 10 states away which makes it pretty difficult to continue building a relationship. Technology, though, has started to bring us closer than ever. Send her a text one a week, offer to schedule a phone call, or become friends with her on Facebook. These simple steps show that you are still invested without having to fly to visits once a month.
Plan some one on one time.
It can be hard to build up a relationship with someone when you are only seeing them at large family gatherings. Try to pull your mother-in-law aside for some one-on-one time away from everyone else if possible. It can be a quick five minute chat in the kitchen while you prepare dinner, but the act of pulling her aside shows that you have a genuine interest and want to make a friendship. It could also be something more involved, like planning a lunch date with a mani/pedi afterwards. Whatever you do, make sure the phone gets put away and you stay 100 percent present in the moment.
Making friends with your mother-in-law can be a long and difficult process, but it's an important relationship to build up. Through these steps, you can form a deeper connection with her and show your spouse that you care about their family. Your mother-in-law will appreciate the extra effort, and hopefully reciprocate the kindness.