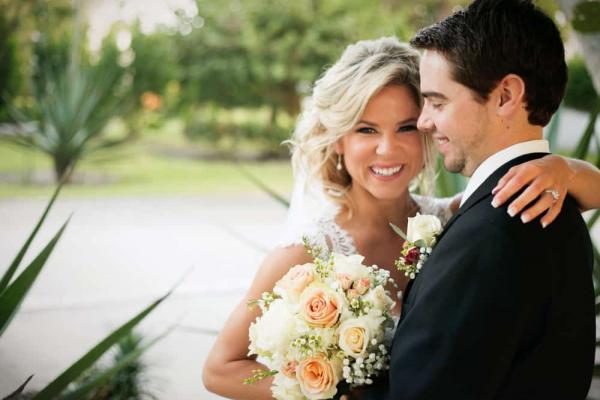 I knew he was the one the moment his father became the next pastor of our small church. OK, maybe that's pushing it, but I did have my eye on him!
While I still had a lot of growing up to do before I started even seriously thinking about boys, I secretly hoped he might look at me someday the way I had always imagined ... and finally, he did. I was 16, and he was 20.
We had a lot of pushback from those who thought he was "too old for me" and I was "too young for him," but we had the time of our lives getting to know each other during those years. We were, and still are the absolute best of friends, and I couldn't imagine life without him. And so, a few months after I turned 19, he popped the question, I said YES, and we married 3 weeks before my 20th birthday.
While I don't want to say that marrying young is for everyone and glamorize it into this incredibly romantic notion, I do want to share seven truths I've learned along the way. The statistics may be against us, but whether you were a young bride, or are thinking about becoming one, you won't want to miss what it takes to beat the odds!
1. It Takes Confidence to Pull a Young Marriage Off
If I'm being totally honest, I'm certainly not a confident person by nature. I'm a classic introvert, and would rather sit behind the computer typing away than be at a social situation that I can't control. Although I'd like to say I've gained a little bit of confidence since that day Joseph asked me to marry him, I still struggle with it ... a lot.
I worried about what other people would think about our decision to get married, rather than relying on the encouragement from our supportive family and friends. Do they think I'm too young? Are they silently judging my choices? I promise I'll finish college!
If I could go back and change those moments, I would be way more confident in my decision. I knew it was the best one for us to make and I wouldn't have it any other way, despite anyone who thought we would be much better off waiting.
2. Your Wedding Choices Follow You Everywhere
This is sort of a funny one, but ohhh, if I had only known how much my tastes would change in the last seven years!
From place settings to bridesmaid dresses, sometimes I wish I had been a little bit older to make some better choices. Not that anything I picked out or planned was bad, it was just very different than how I would actually put together a wedding and home right now.
Thankfully, we have a second chance with our new home, and although I definitely don't need another wedding, a vow renewal party might be fun for a significant anniversary ... and new photos!
3. Realize That You Give Up Quite a Bit
I was just a little naive at how much I had to give up when I walked down the aisle at 19.
For one, I gave up my experience as a single woman in college ....and though that might not seem like much, it was quite awkward when friends would soon find out I was actually married. It almost made me seem older to them, and less willing to "let loose" and just have fun.
I also gave up a bigger dating scene. With no real serious boyfriend before Joseph, I sometimes felt the lack of experience affected my choices. Instead of feeling free to go out with whomever I chose, I was attached while so many of my girlfriends were not.
4. But You Gain Even More
After thinking about how much I may or may not have missed, I soon realized that what I gave up, was far less than what I chose.
That dating scene I had so coveted was totally not worth trading my precious marriage. I had a best friend who woke up with me every day, worked hard for our family, and helped me with my college homework and studying for finals in the evening. I actually had a partner that supported me wholeheartedly and pushed me to succeed.
Plus, I didn't have to worry about whom to hang out with, date, or marry, because I was already taken. And that was SO wonderful!
5. You Will Be Scrutinized More Than Ever
I wish I could say the scrutiny stops after you are married, but there were times when we felt like we were scrutinized even more. As "just a couple of married kids," our decisions were second-guessed, not taken seriously, and we were always told others knew best because of our "lack of experience."
Looking back, I understand that some of our decisions were made in naiveté, and I can't blame anyone who tried to lovingly guide us along the way. However, we wish we could have been treated a little more like adults those first few years. Humor us?
6. You Experience a Different Season of Life
One of the hard things we faced as a young married couple was finding new friendships. Most of our friends were still single, while older married couples were just beginning the baby and toddler stage. We didn't have much in common with anyone, and every social situation just seemed awkward.
Even though this in-between stage was difficult at first, it actually brought us closer together. When friends weren't around, we found a ton of fun activities and date ideas to do together.
7. Marriage is Truly What You Make It
Every day, I'm reminded how lucky we are to have made it this far. We lived through mismatched furniture, minimum-wage jobs, sketchy apartments, and natural disasters. We've also learned how to adjust household duties and create harmony in the kitchen.
But I truly believe marriage comes down to what you make it ... at any age. We could blame a lot on our inexperience, but we've both committed 110% to our vows. We don't ever use our young marriage as an excuse!
As I reflect on all these memories for our seventh anniversary, I can honestly say I've never regretted the choice I made that day. Obviously our marriage isn't perfect, but it's perfect for us, and the fact that we've made it to the seven-year-itch without feeling itchy is a big accomplishment.
Editor's note: This article was originally published on Kalyn Brooke's blog, Creative Savings Blog. It has been republished here with permission.