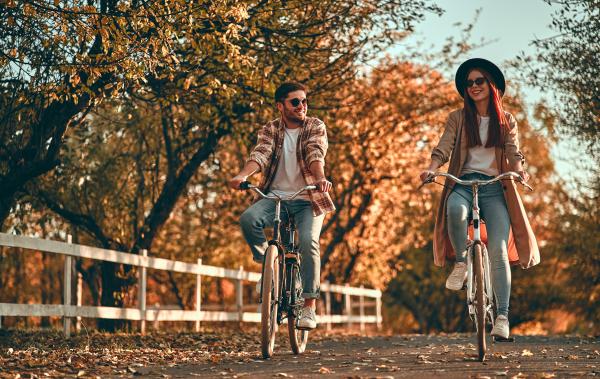 Fall weather brings on many new ways to celebrate your relationship. Date night is still as important as ever, and just because colder weather is upon us doesn't mean the fire has to be put entirely out. It doesn't matter if you have been together for years or just getting to know someone.
We gathered 15 romantic date ideas that will make planning so much easier for you.
Take a romantic stroll.
The colorful leaves are just one perk of the autumn season. Spend some quality time bundled up with your date, enjoying a nature walk. Whether you're in an urban area or the countryside, there are plenty of options for scenic walks. Plus going for a romantic stroll helps to strengthen your relationship while strengthening your health!
Research reveals that walking in nature has many health benefits such as lower blood pressures and resting heart rates, increased optimism, relieve depression and anxiety while improving one's view on life. Enjoy going on walks together as you refresh your mind, body and soul!
Life can get overwhelming, so it can be soothing to just be present with each other taking in the sounds of nature. It is important to take time out of your busy schedules and go for a walk.
Get lost in a corn maze.
Trying out a corn maze is probably one of the best ways to test your problem-solving skills as a couple. Enjoy a great bonding session as you and your partner try to navigate your way through the neverending fields. If you get lost, make it a game for you and your partner to try and find each other. If you're lucky, you will find one on a farm that has other activities to enjoy, like hayrides and pumpkin patches.
Blanket, basket, easy picnic.
A picnic anytime is a great affordable option. Take advantage of the natural seasonal beauty that surrounds you when you dine outside. Make sure you know what your date enjoys when you pack a meal or snacks. You can never go wrong with fruits, sandwiches, and finger foods. If you're feeling fancy, pack a charcuterie board.
Top it off with a bottle of wine, and be sure to grab an insulated picnic basket so you can keep everything fresh and chilled. Turn up the romance notch up a few levels and bring a poetry book to read out loud together.
It doesn't matter how small or grand your picnic will be. Remember to relax and be yourself.
Carnival lights & Fall nights.
The bigger cities tend to have fall festivals planned well in advance. Check your town or cities websites to see if a fair or carnival is rolling into town soon. Grab some sweet treats and challenge your date to a game of darts. This is a great date idea no matter where you are in the relationship. You both can have a good time.
Branch out, go camping.
If you are outdoorsy, then pack up and run away for the weekend. Be bold and have an unconventional weekend away from the cliche dates of dinner and a movie. Snuggle up next to a fire and make s'mores. Make sure you have plenty of blankets and pillows handy for spending time under the stars! You will leave your date with a lasting impression.
Are you feeling brave? Get tickets to a haunted house.
If you are obsessed with Halloween, then get your spook on at a haunted house. Going to a haunted house creates an opportunity for physical closeness with touching and kissing. After you both make it out alive, you can laugh at the experience of holding on to each other for dear life over some good food and drinks.
Bake a pie together; all you knead is love.
Cooking with your partner can be an intimate experience. There is nothing better than learning a new skill with your partner. Apple or pumpkin are the front runners when it comes to getting in the fall spirit with food. You can either divide the tasks between you two or work together to get your dessert made.
Turn on some good tunes, pour two glasses of wine and make the most of your session in the kitchen.
Shift gears and go for a bike ride.
Not only is a bike ride a great way to exercise, but and your date would be enjoying nature at the best time of the year. Try riding through a park or even nearby mountain trails to take in your autumn surroundings. With a warm jacket and comfy helmet, you can make sure this time together will be comfortable from start to finish.
Bike riding is another date night idea that comes with a myriad of positive benefits. Bike riding can aid with losing weight, keeping you fit and allowing you to get some fresh air. It is one of the most effective ways to boost your natural pheromones.
Ghoul have fun shopping for Halloween costumes.
One of the best date night ideas is to go shopping for Halloween costumes together. This might be one of the best date ideas. Go exploring Halloween costumes and get in the spooky spirit. There are so many ridiculous options that are guaranteed to make you both laugh. Treat yourselves to some snacks and drinks while you're out shopping for costumes.
You might even get inspired to make your own, which is another excellent way to spend time together. And with Halloween only a few months away, this is the perfect time to get started.
Happiness is time spent riding horses.
This is likely the most romantic option. Riding horses side-by-side when the trees are at their most colorful will leave you both in awe. You'll want to check the website wherever you book your session for recommended clothing. Be sure you and your date are wearing comfortable clothing to have the best possible experience.
You might also want to bring along a picnic for a mid-way snack break during your ride. Horseback riding is a perfect date option for couples that have been married for many years or those just getting started on their journey of love.
Attend a football game.
Put on some face paint and cheer your favorite team on. You can go to a local game or spring for a pro experience. This is a perfect option to add excitement for Mondays and Thursdays that would otherwise be a dull night in your routine week. Snap lots of pictures to remember the night. Find tickets to your next event at Seatgeek.
If you don't have the option for either, gather up your friends and host your own.
Get on board for a train ride.
Taking a train ride with your partner is incredibly romantic. Pick a close or far destination, put your phones down and enjoy the magical experience.
Tips for first-time riders include:
Know the luggage limits.

Pack a jacket or light blanket.

Bring snacks.

Dress comfortably.
Touch the sky in a hot air balloon ride.
You will have to splurge on this date night as balloon rides do not come cheap. This is a breath-taking experience that will leave you both with a lifetime memory. You can catch your date off guard with this surprise of a lifetime that will top all date nights in existence.
Go above and beyond and take some phenomenal pictures. Many hot air balloon companies even allow you to bring a picnic and a bottle of wine for added romance. Leave your worries on the ground and feel a sense of peace when you float to the sky.
Keep your boo close and go on a haunted ghost tour.
Uncover the weird and ghastly mysteries in your city. Many historic cities offer moonlit ghost tours. Enjoy the fresh air and cozy up to your love as you get acquainted with your city's occult. You may find yourself delightfully spooked as you embark on a fright-inducing adventure.
Plan your next ghost tour with ghostcitytours. They offer some of the best tours in America.
Build a scarecrow.
Use whatever DIY resources you have available, from clothing to straw and make a cute scarecrow. Decide on where you will place your scarecrow for others to admire, whether on the front porch or in the garden it will be a great addition to your fall décor.
Fall date nights are so fun because they are so easy to plan. Just grab your partner, a jacket and have fun.
If you need more ideas be sure to check out these last-minute date ideas that can also be enjoyed during Fall.