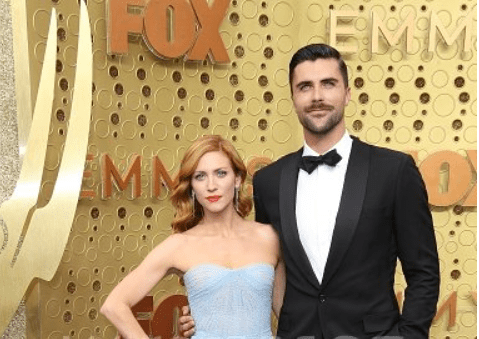 After two years of marriage, Brittany Snow and her husband Tyler Stanaland have agreed to split. Stanaland posted on Instagram last week, "After time and consideration, Britt and I have made the difficult decision to separate. This decision was made with love and mutual respect for one another. We have realized we need to take some time and make sure we are each living our most fulfilling and authentic lives. We started this journey as best friends, and our relationship will continue to be a priority not only for us but for our dog Charlie. We sincerely appreciate your support and ask for privacy as we navigate this new chapter." Snow posted the same image and caption on her Instagram account.
Snow and the Selling OC star started dating in 2018, tying the knot in March 2020. This news of their split comes after Stanaland recently revealed that his costar, Kayla Cardona, hit on him multiple times. In August, he shared on the "Reality Life with Kate Casey" podcast, "One night, Kayla did try and kiss me. And then it happened another night as well."
Stanaland also shared why he tried to get past Cardona's attempts to get closer to him, saying, "On the show, out of respect for her, I am just kind of trying to minimize it and brush past it so that there isn't drama. We can all focus on what we should be doing." He also revealed that he had to set firm boundaries with Cardona but insisted that nothing happened between them.
According to TMZ, the couple hasn't been close for a while, and the split has a lot to do with distance. Brittany Snow lives in Los Angeles, while Stanaland lives in Orange County. Apparently, the couple struggled to split their time between the two residences. Another source told PEOPLE Magazine that Stanaland being on the show was another point of contention for the marriage, saying, "Brittany never wanted Tyler on the show, but he was adamant. He wanted to make a name for himself on his own terms." The source added that the couple was having issues prior, but the show was the straw that broke the camel's back.
In July 2020, Snow posted photos from their wedding day on Instagram, which took place shortly before pandemic lockdowns, and reminisced on marrying her favorite person. Snow said, "We knew we felt incredibly lucky to have found each other, but we had no idea how lucky it would be to get married right before a monumental time in our history. Everything that could have gone wrong went wrong that day, but it was absolutely and impossibly perfect. I knew on that day, more than ever before, there was no one else I'd rather hold my hand while in the middle of a (life) hurricane."
Deciding to divorce is never an easy decision. No couple ever goes into a marriage thinking it'll end in divorce, but ultimately, it may be their best decision. Let's hope Snow and Stanaland will continue to keep things civil and live their best and most authentic lives moving forward.