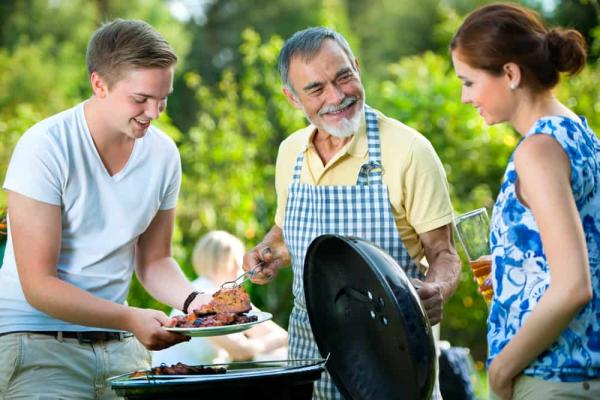 My family's summer schedule is more relaxed than during the school year. Without the press of homework, lessons and sports, we have more time to cook and be creative with our dinners. Here are five ideas for easy summer suppers, delivering maximum fun and flavor without a lot of work.
Deconstructed dinner
When it's hot outside, a complicated dinner isn't necessary. Gather sandwich-type items and serve them individually. Slice up some nice crusty bread, various interesting cheeses, deli meats (even cured specialty meats, if your family would like them), fruit like apples, pears or peaches and raw vegetables. Add in a sparkling lemonade or juice for a European-inspired picnic on the grass at your favorite park, or in your own backyard. We sometimes add in special mustards, chutneys or dips to give our children new tastes to explore.
Go Greek
I try to cook meatless meals a few times a week. A meal based on pita bread and hummus is a great introduction to both vegetarian cooking and Greek cuisine. You can buy pita bread at any grocery store, or you can make your own using a recipe like this one from Martha Stewart. My children love making pita bread and watching the rounds puff up in the oven. I've had success using white whole wheat flour instead of basic white.
There are many flavors of hummus available. Buy two or three kinds (they sometimes come packaged together) or make your own. Cooking light offers several hummus recipes. For a vegetable side dish, slice cucumbers and tomatoes or make a Greek salad, adding in olives, red onions and garbanzo beans. Top your salad with Greek dressing and feta cheese. If your children don't care for hummus, warm pita rounds are delicious brushed with butter and honey. If you'd like to add in meat, grilled chicken goes nice with this meal.
Finger foods
Any food you can eat with your hands is a big hit in the summer months. Tacos, sandwiches, hot dogs, burgers (go with salmon, turkey, black bean or veggie patties to mix things up) and meats like ribs and chicken wings are all easy to eat without silverware. Cut melon into wedges and eat it right off the rind. Corn on the cob is satisfying even if messy. If I set out a plate of raw veggies, it's gone by the end of the evening. Have the kids help you brainstorm a dinner's worth of finger foods and then enjoy being slightly uncivilized together.
Salad bar
You can change several hot meals into cool ones by making them into salads. Full-meal salads can be made using grains like quinoa and cous cous (try Israeli for a different taste) or pasta. Adding protein like beans, hard-boiled eggs and meat or fish to salads also makes them more filling. There are many different lettuces available in the summer. Branch out and try a new variety as a base for your salad. If you have picky eaters, set out several salad ingredients and have each member of the family make their own salad. Serve muffins, bread or a lovely summer fruit along with your salad fixings.
Don't be afraid to add fruit to salad. One of my favorite summer salads is greens, grapefruit, cherries, gorgonzola cheese, candied walnuts and red onion. Strawberries, grapes, pears, apples and peaches can all be added to salads. Mango is particularly good with black beans, avocado and peppers in a southwestern-type salad.
For recipe ideas, do an Internet search based on ingredients or try "summer salads." If you taste an interesting salad at a party, ask for the recipe.
Even though it takes a bit of time, making your own salad dressings is fun. You can adjust ingredients for your taste and use the freshest, simplest ingredients. I make a fresh grapefruit vinaigrette for the salad I mentioned earlier. Whisking together grapefruit zest and juice with oil, salt, sugar and pepper makes a very flavorful dressing.
Garden fresh
Basing your summer suppers around the freshest ingredients will bring ultimate flavor and nutrition to your family. Visit your local farmer's market and have each family member choose an ingredient to cook with. If you have a garden, look for recipes that use up the produce you are growing. When my basil and tomatoes are ripe, I enjoy making a simple caprese salad of basil, tomatoes and fresh mozzarella cheese. Drizzle olive oil and balsamic vinegar over the salad and top with salt and pepper.
Using the food you've grown yourself will make all the watering and weeding worth it. Involve your children in harvesting produce from the garden. They'll be more likely to eat vegetables they helped to grow and pick.
I always look forward to relaxing summer cooking. The fruits and vegetables are delicious and varied, and I'm not slaving over a hot stove or oven for hours. Eat fresh and light this summer and enjoy beautiful evenings with your family.