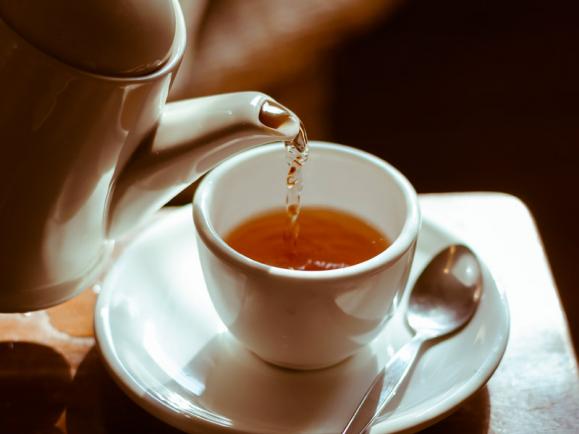 If you've just had your baby, you might be dealing with postpartum blues, and if you're a health nut like me, you're probably searching for the best way to get back on track that doesn't require over the counter drugs or never-ending gym sessions. Luckily, there's an incredible thing out there called adaptogens — and they're truly amazing to get your health, hormones, and happiness back in check.
Adaptogens are wonderful. They're herbs that have been used for centuries to promote long lasting health and longevity. In fact, a well known adaptogen, reishi mushroom, was traditionally called the "mushroom of longevity" in China. Adaptogens are known to harmonize the bodies systems, reduce stress, and give your body, mind, and emotions the better function of 'adapting' to whatever is going on in your life, (hence the name, adaptogen). Adaptogens are powerful herbs with no side effects if taken correctly, and unlike most over the counter drugs, they can be taken forever, with no side effects. They're especially good for new mothers, given the utmost stress and massive changes that have just occurred in her body, physically, mentally, and emotionally. Let's look at the facts -- the changes a mother goes through in the nine months of carrying her baby, as well as the postpartum effects, are not easy. However, they can be gracefully dealt with using the power of natural herbs. For all you breastfeeding Mom's out there, here are five healthy adaptogenic elixirs to ease your postpartum blues.
1. Warm Ginger Lemon Honey Tea
This alkalizing elixir is one of the healthiest things to drink upon waking. After fasting all night long, your body is fairly dehydrated and ready to absorb the first thing you put into it after waking. Rather than drinking coffee, caffeinated tea, soda, or juice in the morning, start with warm water with fresh chopped ginger and fresh squeezed lemon. This helps to alkalize the body first thing in the morning, and warm water is more easily absorbed into the body, ensuring you to deplete any lost liquids overnight. Additional benefits of warm ginger and lemon water include weight loss, improved cognitive functioning, relieves nausea and indigestion, and increases your mood. Major bonus for Moms? Ginger is a well known galactagogue and can help increase breast milk!
How to make it: Chop fresh ginger and put it straight into your mug, add hot water, and squeeze in fresh lemon. Add honey to taste.
2. Golden Mylk Latte
This delicious, turmeric spiced latte is caffeine free but just as delicious as your typical latte. It's popularity has been trending over the years after turmeric became more well known for its superfood properties, and this latte will surely make you feel like super-woman! These lattes can be flavored and spiced differently according to one's preferences, but typically they're milk based with a heavy dose of turmeric, some cinnamon, black pepper, a sweetener, and ginger for a spicy kick. Turmeric is known to be one of the most super superfoods in the world, claiming to strengthen the immune system, reduce inflammation, improve your mood, and increase breast milk supply for new mothers. Other studies have even shown remarkable benefits of turmeric which help to cure cancer and improve brain health. This beverage is perfectly safe for breast feeding moms, and not only will the turmeric effects make you happier, but sipping this delicious, autumn-feels latte will boost your mood as well!
Here is a recipe for you to try out for yourself.
3. Warm Oat Milk Adaptogenic Latte
Time for a girls night! The best part about this latte, is that all three of these adaptogens help with the functioning of the female reproductive system, so this latte is beneficial for any generation of women. Whether you're on your menstrual cycle, struggling with fertility issues, looking to produce more breast milk as a new mom, or dealing with menopausal side effects, the herbs in this latte will help. Now you have the perfect beverage to host a girls night, women's circle, or just getting together with all the good women in your life.
This latte can be used with any milk of choice, but oat milk is preferred for its delicious, nutty flavor. The recommended adaptogens to use in this latte are Shatavari, Maca, and Ashwagandha. All of these adaptogenic herbs have so many benefits, but the common denominator of all of them is they help to reduce stress, increase mood, balance female hormones, and increase breast milk for new mothers.
Check out the recipe, here.
4. Warm Fennel Tea
If you're not a licorice fan, then keep scrolling to the next one. But if you're like me and you love black licorice, then you'll love this delicious and super healthy tea. Fennel, or anise, is an herb that has been used for thousands of years to make food delicious, while simultaneously supporting good digestion. Typically people know fennel to be taken after a meal, whether in a liquor, chewing the herb, or in an elixir or tea. The benefits of fennel also help aid in menstrual troubles and of course, like all the other elixirs mentioned, help Mom produce more breast milk. If you're not a fan of fennel, you can find capsules to avoid the taste. However, I recommend taking this herb as a warm tea, either first thing in the morning, or after a meal to also aid you in digestion.
How to make it: It's simple to make -- simply add 1 to 3 teaspoons of fennel seed to hot water and let it steep for about ten minutes. You can also find it sold in most natural health food stores.
5. Jungle Juice
Don't get too excited -- this jungle juice doesn't have any alcohol, but will be sure to make you still feel good! Jungle Juice has been popularized over the years to help moms increase their breast milk supply. The base of the beverage is blackthorn berry, which has been used to increase vitality, ease symptoms of exhaustion, and increase lactation. The beverage is a mixture of water, blackthorn berry, fruit juice, and a few other ingredients.
If you want to make this a yummy holiday drink, I recommend using apple juice as the main fruit juice, and warming up the elixir to make you warm and toasty. Check out the full recipe, here.