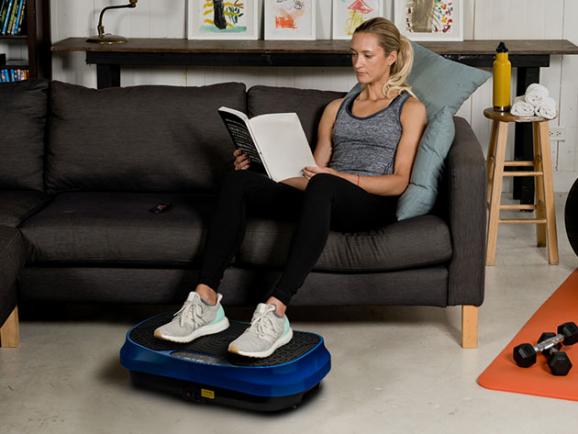 These products were selected by StackCommerce, which created these articles. The products are not endorsed by the FamilyToday editorial team. If you buy something through these links, FamilyToday may get a small share of revenue from your purchase.
Cold weather, a busy family schedule, and closures can lead to a pretty sedentary lifestyle. Even if you're still getting some movement by lifting a 27-pound toddler in and out of a car seat or chasing a newly mobile crawler around the house, you're likely missing out on time to exercise in solitude. You don't need to wait for the snow to clear or the sun to come up with this 4.7-star-rated Amazon favorite, LifePro Waver Mini Vibration Plate Exercise Machine. It can improve your balance, flexibility, and strength right from your own living room.
If you're not already familiar with the healing power of vibration, prepare to be amazed. The technology uses therapeutic vibrations to wake up muscles and enhance their ability to regenerate cells to repair and tone. You'll walk away with increased flexibility and comfort after the very first use.
The whole-body vibrations that the LifePro Waver Mini harnesses have been proven to calm the nervous system, relieve stress, and dull pain. That's a lot of ground to cover across every individual's unique needs, but the 99 adjustable speed settings make the machine personalized to every user. It's perfect for all levels of physical capabilities with an anti-slip rubber foot grip on the top and a stabilizing suction on the bottom.
This particular model of the LifePro Waver Mini is, as you may have deduced, a miniature model. That smaller size makes it perfect to fit in your home that's already packed with kids' toys and easy to maneuver if you need to move from room to room.
The LifePro Waver Mini Vibration Plate Exercise Machine can soothe and heal your body with powerful oscillating vibration movements.
 LifePro Waver Mini Vibration Plate Exercise Machine - $149.99
Prices subject to change.
Image provided by LifePro