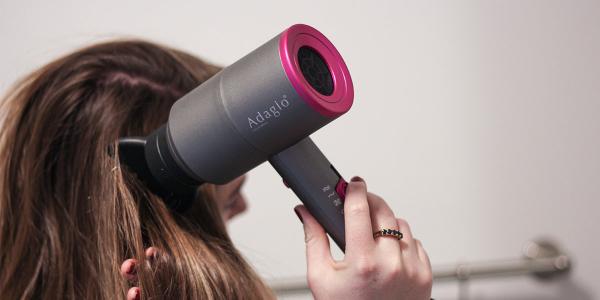 These products were selected by StackCommerce, which created these articles. The products are not endorsed by the FamilyToday editorial team. If you buy something through these links, FamilyToday may get a small share of revenue from your purchase.
You're probably dealing with frizzy and flat hair while you save up for a lifestyle that can afford you a weekly trip to the blowout bar. You're saving up for the day you'll prance in with your designer handbag, a fresh and overpriced latte, and all the leisure time and money you need to get your weekly blowout. But salon closures, work furloughs, and kids schooling from home is making that reality even more of a distant dream. Well, while you were dreaming, Adagio designed this blow dryer to give you salon-quality blowouts quickly and easily from home.
The 1400-watt and fast-drying Adagio Accelerator 2000 can rapidly dry your hair with an overheating protection function, which is awesome since heat-damaged hair can misbehave more. The set comes with two flat nozzles and a diffuser so you can switch up your look between that smooth blowout look and a naturally dried, no-frizz curl. You can customize your blow-dry even further with two-speed settings and three heat settings, all in one handheld device.
If you've attempted your own blowout at home, you know part of the trouble is simply positioning. It's tough to reach all-around your own head and after 20 minutes, your arm gets exhausted from holding the darn tool up. This Adagio Accelerator 2000 is actually ergonomically designed to be light-weight for easy use; and you won't have to hold it up for long with the fast-drying action.
Score that perfect, beautiful, bouncy blowout every day from home. The Adagio Accelerator 2000 is easy enough to use for special occasions, date night, and simply day-to-day perfection. There's never been a better time to invest in some self-care since the Adagio Accelerator 2000 is 67 percent off today for a limited time offer of $64.99.
Adagio Accelerator 2000 Blow Dryer - $64.99
Image provided by Adagio