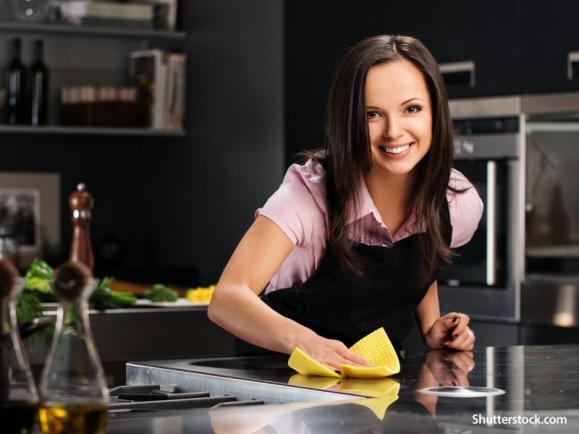 Spring has arrived which means it's time to get your home in tip-top shape. A good, deep spring clean-up is a tradition that promotes wellness by keeping your environment clean and organized. Additionally, it helps carry the fresh-start feeling brought on by a new year well into the summer. You will experience less stress when you're in a home that is spick and span, free of extra clutter. Here are the tips and tricks you will need to get it done quickly and efficiently.
Clean Room-By-Room
Approaching your house room-by-room is the most effective way to deep-clean your home at any time of the year, but especially in spring. Use room checklists as a springboard for deep-cleaning the areas of your home that need extra attention. Feel free to skip items that have recently been cleaned and focus on the parts of your home that have been neglected all winter long.
Organize and Clear the Clutter
One of the biggest parts of spring cleaning is getting rid of clutter that you don't need. Now is a good time to advantage of the natural spring urge to get rid of items that are weighing you down and begin fresh with a more streamlined lifestyle. Sorting your belongings into four categories (trash, give-away, store, or put-way) is effective as you begin the spring-cleaning process. You will be able to determine what you can get rid of and keep more easily. Now is a great time to plan a garage sale or to donate items to good causes as well. Cleaning will be a lot easier when the clutter is gone.
Get the Family Involved
If you need a little help in your cleaning endeavors, get your family involved. Even the most unwilling helper can make a big difference in the workload. Don't worry as there are ways to deal with even the most reluctant helpers. This is a great time of year to get the entire family to work together. Try throwing on some music or establishing a family reward as an incentive to get the work done. Make it a game for the smaller children, and they won't even realize its "hard" work.
Tackle the Seasonal Chores
Some special chores need to be done seasonally. We ignore them for most of the fall and winter, but now it is time to bite the bullet and get these things clean. Even though these chores only need to be done once or twice a year, they will help your home run look better and run smoothly. Outdoor chores like cleaning grills, patios, and windows can be a little intimidating, but doing one thing at a time and staying focused can keep it manageable.
Start Small
So you want to throw out old clothes, clean the bathrooms, organize the closets and still have time to take on the dirty dishes? A manageable way to tackle those tasks is admitting that you might not get all of them done in one day. Oftentimes our homes or lives get out of order because the project becomes too big or daunting. Pick one section, for example just your shoes or the spice cabinet, and spend 20 minutes going through it. Afterwards, you will feel like you accomplished something and want to keep moving forward.
Keep Cleaning Products to a Minimum
The cleaning aisles of our stores are stocked full of commercial products to help you clean, but the variety can be overwhelming. And dozens of cleaning products means dozens of cleaning products to clutter up your cabinets and closets. Resist the temptation to buy all these cleaning supplies. The real champions of spring cleaning are more basic supplies, such as a good all-purpose cleaner and microfiber cloths. There are even homemade cleaners you can make that will save you money while protecting the environment.
Establish New Cleaning Habits
A good, thorough spring cleaning that includes the whole house is a great time to establish new on-going cleaning habits, and it can also make the next spring cleaning a good deal easier. Simple 15-minute cleanup routines practiced every few days, each including a series of one- to two-minute chores, can make it remarkably easy to keep your home clean and tidy all year long. This way you will experience less stress the next time you decide to do a deep cleaning, because things will already be manageable.
Be Patient
Don't forget to work smarter, not harder. Take your time and let grimy surfaces, like the ones in your bathroom and kitchen, soak in your cleaning solution. This will allow the solution to deeply penetrate the dirt that has been neglected all year. Work on something else on your list while your cleaner puts in all the effort.
Start at the Top and Work Your Way Down
This is just the law of gravity. First, clean from the top of the ceiling then to the floor. By doing so, you will knock all the dusty cobwebs from the corner on an uncleaned surface. Wash the curtains, clean the windows, dust the furniture, vacuum the furniture and finally, vacuum the floor. This will ensure you won't make anything harder while you go through your checklist.
It's never fun doing a deep spring cleaning, but with these tips and tricks you will be able to accomplish all your chores in the most efficient way. You will feel better once the tasks are complete and will want to keep your home that spick and span all year round. With a little planning ahead, you can.