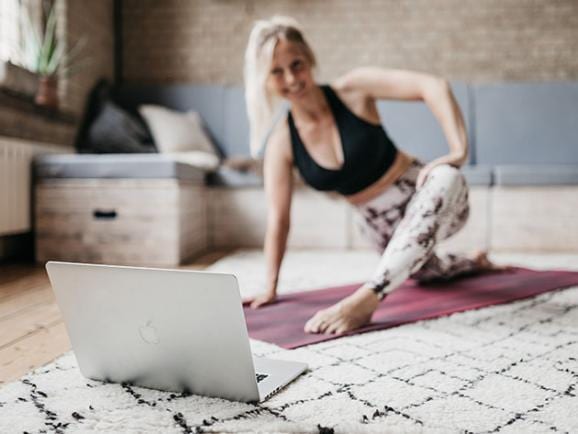 These products were selected by StackCommerce, which created these articles. The products are not endorsed by the FamilyToday editorial team. If you buy something through these links, FamilyToday may get a small share of revenue from your purchase.
If you've ever tried an at-home workout program, you know the convenience is amazing. You can sleep right up to the workout since there's no commute time and you never have to deal with anyone's body odor. However, all of those perks are slightly outweighed by the pitfalls that come with no interactive instruction from a real person. Yogaia, however, is changing that with a subscription of workouts that includes a live, two-way video for feedback from the instructor and daily new workouts.
Yogaia is an interactive yoga class subscription that offers over 100 new classes weekly to yogis anywhere. Whether you're looking to meditate, break a sweat with some pilates, stretch, or perfect a new yoga pose, you'll have access to all of the library's live and recorded classes to workout whenever and wherever you are.
This is typically where parents start second-guessing their ability to commit to workouts. It's not that you don't want to, but it's tough to commit to even 30-minutes per day. Yogaia offers classes as short as five minutes to get you moving on days you just can't squeeze in a full workout and longer classes that run over an hour for days when the kids are occupied with a double-header of the Frozen franchise.
Yogaia is all about providing a convenient way to workout wherever you are, so they made it easy to access your subscription from a desktop, iPhone, Android, and even Apple TV. Their 30,000 classes have been broadcasted from each medium in 140 countries for users with skills ranging anywhere between beginner to advanced.
Yogaia is offering a lifetime subscription to their convenient and innovative library of live and recorded workouts at a 25 percent discount for a limited time. Score thousands of existing workouts, plus an additional 100 with interactive feedback every single week, for just $299 while the sale lasts.
Yogaia Interactive Yoga Classes: Lifetime Subscription - $299
Image provided by Stackcommerce