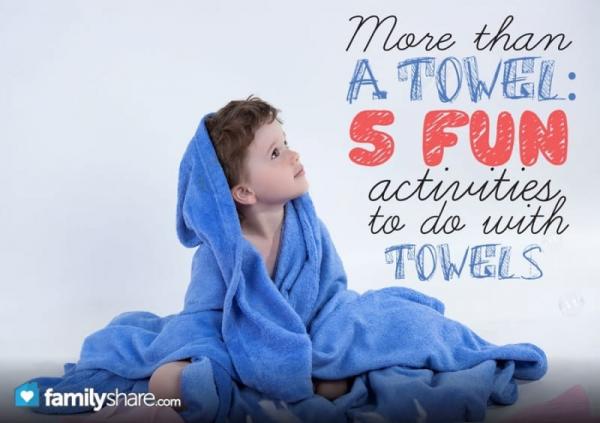 Towels are more than just a piece of fabric to soak up water, these objects are the beginning to a whole day of fun activities for you and your children. In fact, May 25 is National Towel Day and you can celebrate with your children by doing a variety of activities. Below are a few suggestions to help you commemorate this unique event.
Paint towels
Let your children create their own towel. Whether it is just a washcloth, hand towel or even a beach towel, let your child create a towel they will love to use. You can let your children paint their own towel using fabric paint. Take them to the store and let them pick out their own towel and fabric paint. When you give your children the opportunity to make their own decisions, they create a sense of ownership and they will be more willing and eager to participate.
Get wet
If the weather is warm, spend the day getting wet. Go to a pool or play in the sprinklers. Let your children choose what towel they want to take with them to use after the water excursions. You can even use towels as equipment for certain water games such as water volleyball. To play this game, two people hold each side of a towel and place the water balloon inside. Then using the towel, they throw the balloon over the net. On the receiving side, the players must catch the balloon in their towel and not with their hands. If the water balloon drops or bursts, the other team scores a point. If it is caught without popping, it is then the opponent's turn to toss the balloon over the net to attempt scoring points.
Learn to make towel animals
Older children will enjoy learning how to make towel animals. You can make a variety of different animal shapes such as a walrus, monkey, elephant, swan and more using nothing but a towel. Many tutorials can be found by doing a quick search online. It may take some time before you get the hang of it, but with a little practice, you can become a towel animal expert.
Build a towel fort
If you want to be a cool mom, suggest making a fort with your children. Using only towels, you can create a colorful and fun fort that your children will enjoy. Make the fort in front of the TV and watch a movie when finished or create the fort in their bedroom and spend time reading stories. Your children will love spending time with you and you can worry about cleaning up the mess later.
Use paper towels
There are hundreds of activities you can use with paper towels if you don't want to ruin your bathroom or kitchen towels. Using the paper towel roll, you can create a kaleidoscope or building logs. You can paint pictures on the paper towels or use them to make artistic masterpieces. There are hundreds of ideas that you can do with these items and once again, by doing a quick search online, you will be able to find a multitude of activities that will interest your children.
You don't have to do the same activities day after day. Do something unique and out of the box using towels. Your children will have fun doing something different with these household objects and you can enjoy creating wonderful memories with them.