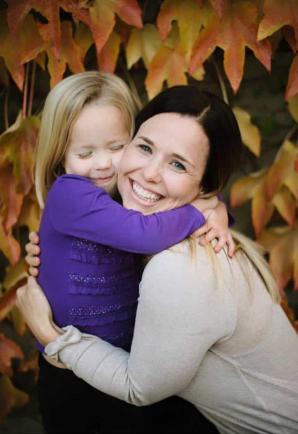 Brighton Tenney "brightened" the lives of everyone she came in contact with. In January of 2016, Brighton contracted pneumonia, croup and a respiratory syncytial virus and subsequently passed away a few days later. In the months after her death, she is still brightening lives.
In a Facebook post recounting the events that transpired the day Brighton passed away, Brighton's father Kevin spoke about several miracles and tremendous acts of kindness his family witnessed and received that day which motivated him and his family to begin a pay-it-forward movement in their community in honor of their daughter's name.
Miracle #1: The concerned police officer
"One by one people came and said their goodbyes. I was keeping an eye on Brighton's vital signs because I wanted to be with her during her final moments. She ended up lasting for about 20 minutes before her body just couldn't take anymore. As she passed it was so peaceful. I have seen death in the past and it can be very ugly. This was not one of those moments. As she passed I looked up and noticed the same police officer that had been there the first time...was at the hospital for the last time. He had no idea any of this was happening. He was just there with a get well basket. It warmed my heart to see someone go out of their way to show such an act of kindness. I hugged him and thanked him for giving me 3 more days with my daughter."
Miracle #2: The neighborhood decorated in pink
"We got in the car and were driven home. As we were in the car we both instantly fell asleep. I don't know if it was from exhaustion or if we just didn't want to think about what had just happened. We slept most of the way home but I woke just before coming into the neighborhood. As we pulled in the neighborhood I noticed the bows for Brighty on the trees going up the street to our house. I was so touched at the kindness of people. As we got to our house I noticed a tree in my yard covered with bows and just broke down! It was another reminder to me of how much people loved my little Brighty!"
Miracle #3: Little acts of kindness
After the family returned home, they got some much needed sleep. Kevin recounts the little acts of kindness his family received in the days after Brighton's death. "I went into our front room which was filled with stuffed animals and was again overcome with emotion. This was another act of kindness for my little girl that she never saw. She would have LOVED them!
"The next morning my mom woke up with the kids and let me and Bethany sleep. It was the first good sleep we both had gotten in a while. When Bethany woke up she was in a state of depression and felt very little to live for. I told her to get a shower and come downstairs to eat. As I walked down the stairs I noticed my family eating Kneaders. My mom told me that a friend got it for us. I found out which friend and it warmed my heart. This was the same friend that has had some terrible tragedies in their life and was thinking about us.
"If there is something that I have learned from this is that there is so much love in the world still! The other thing I have learned is that friends and family are the most important things in this life. I have been so uplifted by strength in all of you."
These little acts of kindness gave the Tenney family a great idea. In honor of Brighton, they decided to start a pay-it-forward movement to "Brighton A Day" and perform little acts of kindness for a stranger or someone in need.
Brighton A Day
In the weeks and months after Brighton's death, A Facebook page named "Brighton A Day" started the movement to brighten someone's day. The community embraced this movement and shared all of the acts of kindness people provided and received on the Facebook page. The Brighton A Day Facebook page continues to receive comments from strangers all over about how they are paying it forward and brightening people's days in honor of Brighton. The overwhelming support the Tenney family has received inspired them to take Brighton A Day one step further.
On May 19, 2016, what would have been Brighton's 5th birthday, the Tenney family wanted to celebrate the life of their little girl through random acts of kindness. On Brighton's birthday the amount of people who posted on their Facebook page about the acts of kindness they performed that day far surpassed the number Kevin and Bethany Tenney could have ever imagined. The whole community was inspired by Brighton's short life that hundreds of people participated in celebrating her by reaching out to others and brightening complete strangers' days. This served as the launch for the Brighton A Day Foundation.
Already the owner of a small pizza chain in the community, Kevin Tenney decided that he could make a greater difference in the lives of people in his community by starting the Brighton A Day Foundation. The foundation is dedicated to improving the lives of as many people as possible in the tiniest of ways that can still make an impact. The idea is that it starts with one person. It starts with you. "The goal is to have one thing a day you try to do for someone to make their day better. If we had a group of people making this commitment, how much better would this world be? It is our hope that we can take the loss of our beautiful daughter and make the world a little bit better each day as she did."
Even though Brighton is gone, her family believes she fulfilled her purpose on earth, and in her name, her family and the community is still able to change people's lives and make their days a little bit brighter.
Take a little time to "Brighton a day" today. Though the acts of kindness are little, they mean the world to the people who receive them.