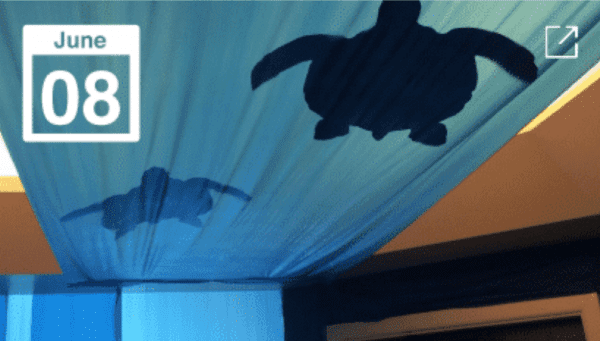 World Ocean's Day was created to celebrate the ocean that connects all people and remember that the only way to protect it is by working together.
Did you know? The Great Pacific Garbage Patch in as island made entirely of trash that is three times the size of France.
Required Supplies
Blue plastic tablecloths
Masking tape
Paper (any color)
Trash bags
Duct tape
Seaweed snacks and fish sticks
Activity Directions
Use masking tape to secure the tablecloth to the ceiling with some slack.
Cut fish shapes out of paper using this template.
Slide the fish shapes onto the tablecloth between the ceiling and the cloth.
For dinner, serve seaweed snacks and fish sticks.
Talk to your kids about the importance of caring for our oceans. You can watch this video to get the conversation started.
After Dinner Bonus
Have a kid step into a large trash bag (not all the way, let's avoid suffocation). Then wrap duct tape around the bag to secure legs together and to the body. Let your kids flap around the floor pretending to be fish (it's a fun game, promise).