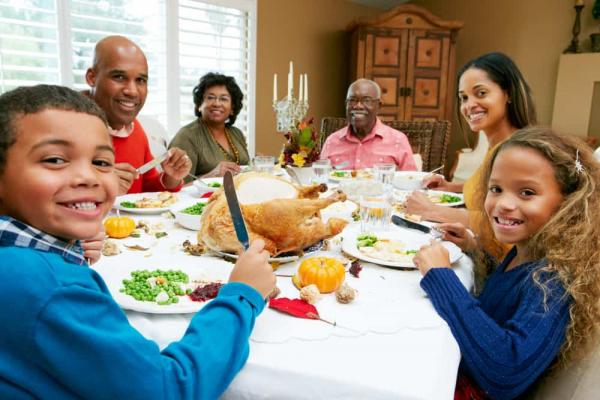 Of all the holidays in the holiday season, Thanksgiving is our best opportunity for bettering our families. It's the one day each year dedicated to expressing gratitude, counting blessings, and extending our reach to those who are less fortunate. We need to make every minute count. As you look for ways to center your Thanksgiving around gratitude, here are 10 suggestions.
1. Make it more than a day
Declare gratitude month in your house this year. Use all of November to talk about blessings as a family and create a meaningful way to document all the things you're grateful for. You might consider making a thankful tree, a thankful paper chain, or gratitude journals.
2. Focus on your family
Get even the littlest kids involved in Thanksgiving by making the morning all about your family. Play games together, do simple crafts or build a blanket fort. Remind your kids that your greatest blessing is your family, and we show your gratitude by spending time together.
3. Reach out and serve
Teach your kids to meet the needs of those less fortunate than themselves. Many families volunteer at soup kitchens or homeless shelters in November, but there are many more family friendly service projects you can do together.
4. Don't go shopping
There are many ways people justify shopping on Thanksgiving. Some say that the workers volunteer to work those shifts so they can receive holiday pay. Others feel it's OK so long as you shop after bedtime. However, Thanksgiving is a special opportunity to opt-out of the commercialized holiday season. You owe it to yourself to take 24 hours away from thinking about what you want and focus instead on what you already have. The sales can wait until Friday.
5. Take a time out before digging in
All that Thanksgiving food looks and smells wonderful, but take a few minutes before eating to express your gratitude. It's good for our children to see us voice our feelings, even if it feels a little uncomfortable. Go around the table and give everyone a chance to share.
6. Slow down the meal
If you have enough food for Thanksgiving, you are blessed. Many people in the world aren't so lucky. Slow down and enjoy your food together before racing off to the next thing. Teach your kids that part of showing gratitude is really enjoying what we have.
7. Open up your home
Not everyone is lucky enough to have family around for the holidays. Open up your home and share your table with those who might otherwise spend the day alone. The natural extension of gratitude is sharing.
8. Require everyone to pitch in for cleanup
Show your family cook gratitude by not requiring him or her to clean up the mess. We can show our kids to put gratitude into action by lifting the burden of others. On Thanksgiving, that means doing the dishes with a smile.
9. Bring a meal to someone in need
In addition to opening up your home, don't forget those home-bound people who may not get to celebrate. Bring a meal to an elderly neighbor or dessert to a family with a new baby. Stop by and say hello to a disabled friend after your family dinner. Teach your kids to think outside of themselves.
10. Write thank-you notes
How many times do we say we're grateful for a person during Thanksgiving then never tell them directly? Before you take that post-turkey nap, gather the family around the table again and hand-write thank you notes to teachers, civic workers, church leaders, friends and extended family members. Make this a yearly tradition.
This year, commit to getting more gratitude out of Thanksgiving. Go beyond simply saying what you're thankful for and find meaningful ways to put that gratitude into actions. You don't need grand gestures or elaborate crafts to get your point across. Just pick one or two things and make them a part of your yearly celebration.