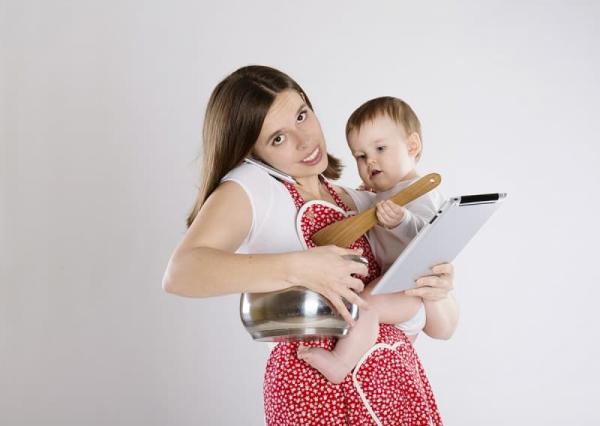 Not everyone has the ability to put Martha Stewart to shame with a meal every night. Some of us are lucky to get a home cooked meal with all we have on our plates - pun intended. Here are some suggestions for the mom on the run. Your family can once again enjoy a home cooked meal on the go.
Plan ahead
This is the best advice I was ever given as a busy mom. Take five minutes a week to sit down and plan what you will be eating for the week. Then, take a quick trip to the grocery store to get everything you need. This one hour a week ritual has saved me from the dreaded, "I need one ingredient," run to the store.
By having the correct ingredients on hand, and a master plan, you won't spend time and energy during the week wondering what you can whip up. It's all planned and ready, you simply throw it together.
If you are a busy family, and can cook in the morning, pick meals that can be prepared ahead of time and refrigerated, so you can pop it in the oven while helping with homework.
Just Freeze it!
Before I give you some recipes, let me say a little about freezer meals. If you find yourself with a little time on the weekends or early mornings why not cook dinner then? Here is a great article to help inform you about getting started with freezer meals.
Meals that freeze well:
Lasagna

Stock based soups, i.e. stews, split pea and ham, etc.

Enchiladas

Casserole

Blanched vegetables for sides

Spaghetti and meatball sauce, (don't freeze the noodles)

Scalloped potatoes
Here are a few tips:
When I have time to make a dinner that can be frozen easily, I make two. Then package the second and throw it in the freezer for later.

If you want a small sized meal why not package your meals in bread pans? Just enough for two or three people at a time.

When I cook ground beef for tacos, I cook four times as much meat as I'll need then put the leftovers in freezer bags, it can be defrosted in a jiffy and thrown right into a meal like:
Taco Soup
This is my favorite because it literally takes two minutes to throw together if you have previously cooked the beef, and 10 minutes if you need to brown it.
1 lb ground beef, cooked
1 packet taco seasoning
1 packet ranch dressing
1 can black beans
1 can pinto beans
1 can diced tomatoes
1 bay leaf
4-6 cups of chicken stock depending on how thick you like it, (I use bouillon cubes and water)
1 can corn, (optional)
For garnish:
Cheese
Tortilla chips
Sour cream
Throw it into a pot and bring to a boil, it only needs to get warm, it's all cooked. If you have time in the morning, throw it all into a crockpot and leave on low for dinner that night. I freeze my beef and throw it in frozen. You can change out the beans for what your family will eat.
Which brings us to our next meal options.
Slow Cooker
If freezer meals are not your forté why not try slow cooker meals? They are convenient, and you are welcomed home after a long day with wonderful smells.
This has to be my favorite way to cook. Here are some tips:
If you want to make life even easier, you can prep meals for a week at a time. Place all the meats and seasonings in a bag in the freezer, the vegetables chopped and placed together in another bag in the fridge so when you head out the door to work you just have to dump two bags in and add water before turning your cooker on.

Spray your slow cooker with non-stick spray for easier cleaning at the end of the day, you can even purchase liners so there is no mess when all is said and done.

Give your slow cooker room to breathe. Placing it on the counter right next to a stack of bills or papers is probably not the safest. Keep it in a place out of reach of children and where it is not easily bumped.

When looking for meals there are some fun websites to get recipes from. Start with meals your family is familiar with.

Chances are, you have recipes in a cook book you already own.

Soups and roasts are wonderful, but you can also make desert in a slow cooker.
Here is a family favorite:
Slow Cooker BBQ Pork Sandwiches
Spray crockpot with non-stick spray. Place your pork roast in the bottom of the cooker. Slice an onion into 1/4 inch strips and place it on top of the roast. Sprinkle the roast with salt and pepper. Turn the cooker on low and leave for 6-8 hours. When it's done remove the roast and shred it in a bowl. Discard the juice left in the crockpot. Save the onions for later in a separate bowl. Place roast back into crockpot and add:
1 jar of your favorite BBQ sauce

A dash of lemon juice,

1 tsp of brown sugar and

A dash of chili powder
Turn the crockpot to warm. When you're ready to serve, place the meat on hamburger buns and top with onions. Serve with coleslaw. This is a summer favorite and the prep time in the morning is only five minutes. When you pull it out and shred it and add the sauce it will take an additional 10 min.
Snacking
Small bags of chips, pretzels and cookies can add to our budget (and hips). Why not pre-package your own snacks?
Buy vegetables in bulk, then take a half an hour and cut them up ready to eat. Package the crudites in snack-sized plastic baggies and refrigerate for convenient, healthy, fast food.
Muffins are big at our house. I make muffins once a week, and double the batch. I then wrap them individually in plastic and put them in a drawer in the freezer for a convenient on the go snack.
Keep finger foods out to see, like bowls of apples on the counter or bananas.
While you are busy serving others, remember to refuel your own empty tanks. These are a few suggestions for moms on the go. How do you cook when you are on the run?